Beatriz Colomina and Mark Wigley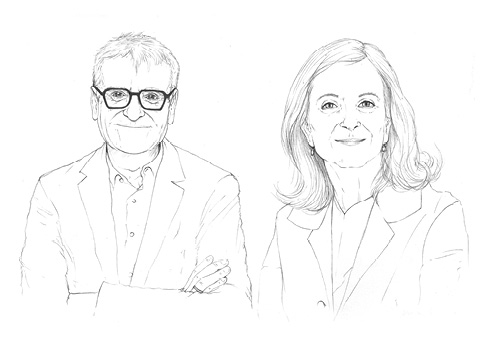 Beatriz Colomina is the Howard Crosby Butler Professor of the History of Architecture at Princeton University and a 2018–2019 fellow at the Wissenschaftskolleg zu Berlin. She writes and curates on questions of design, art, sexuality and media. Her books include Sexuality and Space (Princeton Architectural Press, 1992), Privacy and Publicity: Modern Architecture as Mass Media (MIT Press, 1994), Domesticity at War (MIT Press, 2007), The Century of the Bed (Verlag fur Moderne Kunst, 2015), Manifesto Architecture: The Ghost of Mies (Sternberg, 2014), Clip/Stamp/Fold: The Radical Architecture of Little Magazines 196X–197X (Actar, 2010), Are We Human? Notes on an Archaeology of Design (Lars Muller, 2016). She has curated a number of exhibitions including Clip/Stamp/Fold (2006), Playboy Architecture (2012) and Radical Pedagogies (2014). In 2016 she was co-curator of the third Istanbul Design Biennial. Her latest book is X-Ray Architecture (Lars Muller, 2019).
Mark Wigley is a Professor of Architecture at Columbia University. He is a historian and theorist who explores the intersection of architecture, art, philosophy, culture, and technology. His books include: Derrida's Haunt: The Architecture of Deconstruction; White Walls, Designer Dresses: The Fashioning of Modern Architecture; Constant's New Babylon: The Hyper-Architecture of Desire; Buckminster Fuller Inc. - Architecture in the Age of Radio; and Are We Human? - Notes on an Archaeology of Design (written with Beatriz Colomina when they co-curated the 3rd Istanbul Design Biennial). He has also curated exhibitions at the Museum of Modern Art, The Drawing Center and Columbia University in New York, the Witte de With in Rotterdam, and the Canadian Center for Architecture in Montreal. His most recent exhibition, The Human Insect: Antenna Architectures 1997-2017 was on show at Het Nieuwe Instituut in 2018. His most recent book is Cutting Matta-Clark: The Anarchitecture Investigation (Zurich: Lars Müller, 2018).
At MADE LABS:
Lecture 27.JULY.2019
Slot 1